Download Citation Wizard LE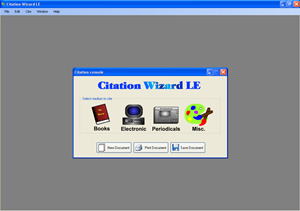 > CLICK HERE TO DOWNLOAD <
Current release: 1.5.3.0
Citation Wizard is also available as a
free
Windows application called
Citation Wizard LE
.
Features contained in both Citation Wizard and
Citation Wizard LE
:
Support for the current MLA standard (MLA 1999 or MLA 3rd edition)
Generate individual citations
Create bibiliography/works cited documents from scratch
Preview your finished document and remove unwanted entries
Save finished document as ".rtf" or ".cw" files
Features unique to the
Citation Wizard LE
Windows application:
For starters, it's free software
Create bibliography/works cited documents from scratch without an Internet connection
Generate indidivual citations and copy them directly to the system clipboard
Set page margins, line spacing, etc.
Print your finished document directly from the program (you don't even need a word processor!)
Save your progress as ".cw" files that can be reopened and modified at a later date by the program
Cite using either the 2nd or 3rd edition of MLA
If the added benefits of
Citation Wizard LE
interest you, click the link below to download the application:
System Requirements
Microsoft Windows operating system: XP, Vista, 7, 8[.1], 10
Approximately 2 MB of free disk space for the application and another 500 KB for data
Latest edition of the .NET Framework, available for free from Microsoft.
---
Revision history
1.5.3.0 - Improved implementation of Edit menu functionality.
1.5.2.0 - Minor fix to entry list not immediately refreshing after using the remove entry tool.
1.5.1.0 - Will not display a period after titles that end in a question or exclamation mark. Correction made to citation generation for scholarly journal. Several under the hood performance enhancements made that will ease the implementation of version 2.0.
1.4.1.0 - Switched order of preview and add to document buttons. Status bar added so as to alert the user to the number of entries in an open document. Status bar will display "Ready" on empty documents. Fixed a crash that would occur should a user try to remove entries from an empty document. Minor revisions to help document.